How to deal with India's rape epidemic.
You may have seen Vasu Primlani's video on solutions to India's rape crisis. The five-minute clip has gone viral on WhatsApp groups and online especially after the horrific gang-rape of an eight-year-old child in Kathua, Jammu, besides news from elsewhere in India of minors being raped and murdered.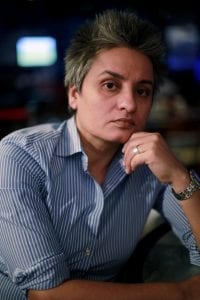 Vasu Primlani, Indian stand-up comedian and international environmentalist, in Chandigarh. photo by Sandeep Sahdev
A child-rape survivor herself, Vasu is now one of the most prominent social entrepreneurs in the United States. She is also a somatic therapist, actor (her latest film was Badrinath ki Dulhaniya), environmentalist, professor (at institutions such as IIT, Xavier Institute of Management Bhubaneswar, University of Michigan among others), besides also a dedicated triathlete, environmentalist, and one of India's leading standup comedians.
She has received over a dozen environmental and economic leadership awards globally, including India's Nari Shakti Award 2017.
We ask her about India's 'rape epidemic'.
In light of the Kathua and Unnao rapes, what are your views on rapists? Why do men rape?
Unnao and Kathua are the shame of India. At the same time, you have to know what causes rape to fix it. No child is born a criminal or a rapist. They are MADE into one. Men who rape have been through a great deal of physical, emotional, and/or sexual abuse as children. They have seen how violenceoperates. Who creates rapists? We do, as a society.
A  study on developmental experiences of child sexual abusers and rapists, which studied 269 sexual offenders (137 rapists and 132 child sexual abusers), found that compared to rapists, child sexual abusers reported more frequent experiences of child sexual abuse (73%) and early exposure to pornography (65% before age 10). In contrast, rapists reported more frequent experiences of physical abuse (68%), parental violence (78%), and emotional abuse (70%). Both child sexual abusers and rapists (>93%) reported frequent exposure to violent media during their childhood. Most offenders (94%) described having insecure parental attachment bonds.
These children grow to be adults, and to lack empathy – because no one considered their feelings in the first place.